Global Education Goes Online
CAPA: The Global Education Network Provides Hundreds of Students with Remote Global Internship and Study Abroad Opportunities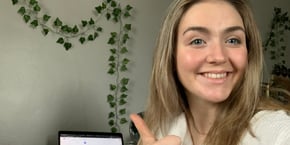 September 29, 2020
CAPA: The Global Education Network is pleased to announce the successful completion of its inaugural online study abroad and internship programs. While the COVID-19 pandemic kept students from studying and interning abroad in person this summer, CAPA's remote global internships and online study abroad courses gave students the opportunity for meaningful global experiences from home.
Hundreds of college students from around the country took part in CAPA programs this summer and reported overwhelmingly that they gained valuable professional and personal skills through their experience. "This opportunity allowed me to continue growing professionally and personally even during these complicated times," said Valeria Valdes, an Arizona State University student and summer 2020 CAPA Remote Global Internship participant.
The success of the summer's program has led CAPA to continue to offer remote global internships and online courses each term, with the first fall cohort starting today. The remote global internship program will continue to offer a robust professional and cultural experience for students who haven't been able to consider in person international experiences in the past due to financial constraints and other barriers.
As companies around the world have moved to working remotely, CAPA's online programs enable students to gain valuable skills while earning credit. "CAPA's remote internships are a new innovative global experience that help students build valuable 21st century professional and personal skills in an interconnected global online environment," said CAPA President John Christian. "In a world that continues to become more interdependent and connected through technologies, CAPA's Remote Global Internships provide critical global career development opportunities, while increasing global awareness and understanding and offering more inclusive and affordable options for students."
CAPA's vast network of thousands of companies and organizations around the world enabled students to intern in their chosen field, from marketing and communications to healthcare and accounting. Upon acceptance into the program, CAPA's internship team matched each student with a guaranteed placement customized to meet students' personal and professional goals. Students were placed with organizations in global cities worldwide including Barcelona, Dublin, Florence, London, Shanghai, and Sydney. In addition to the internship, students received ongoing support, mentoring, resume and interview preparation training, special guest lectures, and networking opportunities. Plus, students engaged with the global cities they were working and studying in online through CAPA's My Global City virtual events, which included virtual city tours, global trivia games, Italian cooking classes, and networking events.
"CAPA's focus on professional skills such as remote collaboration, communication and time management provide students with the skills needed to be successful in a global online working environment. These opportunities are having a pivotal role in the shifting landscape of higher education in the U.S. and beyond as companies depend on a global workforce that is adept at working remotely," said CAPA VP of Internships Craig Kench.
For more than four decades, CAPA: The Global Education Network has worked with higher education institutions to build programs that meet their goals for learning abroad. CAPA operates education centers in Global Cities and has developed distinct academic offerings, support frameworks, and oversight structures for students and visiting faculty. CAPA has been providing internship experiences in Global Cities for undergraduate students for more than 25 years.
A Message from CAPA On our Commitment to Anti-racism
August 20, 2020
CAPA is committed to using diversity, equity, and inclusion as a lens in all aspects of our work. We are dedicated to advancing practices that are anti-racist and are supportive of diverse communities, including the vast array of diverse and rich communities of our staff and students including BIPOC, AANHPI, Latinx, LGBTQIA+, and others. We condemn racism and are actively engaged in dismantling structural bias within our organization and supporting similar initiatives with our partners and within the international education field.
Providing a safe and positive learning environment for our students is of the highest importance to us. We stand resolute in our commitment to creating an environment where students can focus on their development, learning, and growth. CAPA does not tolerate racism, bias, microaggressions, or othering on our programs. We take all allegations among our students and staff very seriously. We thoroughly investigate and act accordingly to address each situation appropriately with care, concern, and compassion.
The murder of George Floyd, Breonna Taylor, and so many others, and subsequent global protests highlighted the ever-present, sustained, and continued inequity for communities of color. The racist and bigoted treatment of members of the AANHPI community related to the COVID-19 pandemic have demonstrated that DEI work remains of paramount importance and addressing racial justice and white privilege continue to be a priority for CAPA.
CAPA conducts multiple in-person trainings per year for its staff members on diversity, equity, and inclusion, with topics that range from supporting diverse students to unconscious bias training and include engaging outside experts in the field of equity and inclusion. In our overseas centers, we provide regular training on how to respond to issues of racism and bias, as well as all student health, safety, and wellness needs.
Additionally, we take a proactive approach to our internal anti-racist work. We have a Diversity, Equity, and Inclusion (DEI) Committee and Marketing and Communications Working Group that work actively to develop and incorporate anti-racist policies and practices into our organization and materials. Diversity is also part of CAPA's student learning outcomes and is incorporated into our curriculum, including our courses and My Global City events calendar.
We partner with Diversity Abroad to offer resources for students from diverse identities and have a student portal that provides additional resources pre-departure and in-country for students of color, LBGTQIA+ students, and other students from diverse backgrounds. We invest in Diversity Abroad and their Innovation Grant, The Fund for Education Abroad, LEAD 50/50, the HBCU Symposia, The Global Leadership League, as well as multiple DEI organizations, to amplify our DEI work, and also to continuously learn about more about the best ways to evolve our internal initiatives.
For more information on our efforts, please check out the following pages on our website:
We recognize that diversity, equity, and inclusion work is ongoing, and we continuously assess the impact of our DEI policies and initiatives to improve and incorporate recognized best practices. We are continually learning, and our commitment is to incorporate what we learn into educating our students on these issues to help them grow and challenge their perceptions.
A Message from IEOs
August 10, 2020
Dear Colleagues,
We hope that you all are keeping well and are finding clarity as you build plans on your campus for the upcoming fall semester. We know that every aspect of higher education has been affected by the ongoing pandemic, and the International Education field has seen a wide array of special challenges over the last 5 months, from returning U.S. students safely home in the spring, to uncertainty of border and visa restrictions this fall for both incoming and outgoing international students. As international education organizations, we are adapting to these changes and innovating solutions to support you and your students.
While the nature of instruction and student interaction may have shifted for the time being, our commitment to you remains our top priority. We are driven and focused on collaborating, sharing information, and engaging in meaningful discussions about what international education will look like moving forward.
Together, international education organizations are uniting to discuss best practices, policies, and procedures in health, safety, and responsible program operations. We are evaluating information from The Forum on Education Abroad, NAFSA, foreign Ministries of Health, OSAC, the CDC, US Department of State, and others to ensure that we fully understand the intricacies of the data and recommendations from these experts, and can contextualize them locally, regionally, and country-wide as we look to the future of on-site programming.
Together, we all want the best for your students and will continue to work with each of our partners abroad to negotiate more flexible policies that benefit your students' academic, professional, and personal goals.
Together, we have gone through these difficult months with you. We are here to help you as you face these same questions and navigate these new challenges. We encourage you to engage with your approved partners about ways in which they can support your office and your students to further the mission of global education.
Together, we look forward to continuing to work with you on the new virtual study abroad fair software being designed, scheduling calls to discuss reopening plans, and encouraging students to apply for a new or renewed passport as soon as possible due to processing delays at passport agencies.
We miss all of you dearly and look forward to the day when we can again visit your campus, speak with your students, and help them find their place and purpose abroad that will change their lives forever.
API – Academic Programs International
ASA – Academic Studies Abroad
Barcelona Study Abroad Experience
CAPA: The Global Education Network
FIE: Foundation for International Education Global Experiences ISA by WorldStrides KEI – Knowledge Exchange Institute Spanish Studies Abroad The Education Abroad Network by WorldStrides The School for Field Studies
A Message from CAPA's President
June 5, 2020
Dear CAPA Community,
It is with a heavy heart and an abundance of concern for our colleagues of color, our society, and the future that I write to you today. We live in frightening, eye opening, and alarming times. As an organization dedicated to diversity, equity and inclusion, we are deeply saddened and outraged not just about the killing of George Floyd, Ahmaud Arbery, Breonna Taylor, Manuel Ellis, Tony McDade, and all victims of police brutality, misconduct, and racial violence we have witnessed recently, but the countless more that have occurred throughout US history.
We have to open our eyes to the reality that friends, families, and fellow human beings of color live in a world of fear, inequity, and failed justice. This is a systemic problem—it is not new, and it is not going away without focused, and ongoing long-term change in leadership, government, policy, and human behavior, accompanied by consistent voices from all of us pushing for radical reform.
I believe education and international educators can significantly impact the change that will dismantle systems and policies that enable the continuance of systemic racism and inequities by making bold decisions about funding, curriculum, training, and organizational design. Positive action will help to create lasting, meaningful progress toward an equitable, diverse, and inclusive society where all people of color have the same access to housing, healthcare, education, public spaces, and a criminal justice system that treats them as people who look like me do without fear of injustice and bodily harm.
At CAPA, we are examining our learning abroad models not just to make them more affordable but genuinely accessible by changing terms, length of study and integrating online options. We will be implementing new training and education for all of our students, staff, and faculty to ensure that we translate a commitment to diversity and inclusion into action. We invest in Diversity Abroad and their Innovation Grant, The Fund for Education Abroad, LEAD 50/50, the HBCU Symposia, The Global Leadership League, as well as multiple DEI organizations, and will continue to review strategies like this to support this most important work. I recognize that I do not have all the answers, and we have much work to do, but we must look deeper at ourselves and our society and work together to create real, lasting change. I encourage us all to do this and do it now, especially those of us in the white community in the US who have benefited from systemic oppression and racist policies.
I heard someone say the other day, "it's hard to believe this is happening again." The only acceptable response is that this has never stopped happening. For so many Black people and other people of color, injustices, including police brutality and racial profiling , are part of their everyday lives: on the street, in schools, at the market, at a stop sign, while jogging, at a job interview or with a mortgage application; events white people never have to worry about. It is time to understand the perspective of one another, to do more than just recognize these injustices. It is time for us all to take an active role in ending them.
I have to believe that as a cohesive and caring community, we can achieve this change. I truly long for the day when we can see each and support each other in person. Until then, know that we remain a community with drive, spirit, and a perpetual hunger to grow and learn.
Sincerely,
John Christian
President & CEO
CAPA: The Global Education Network